Remember:
Normal urine contains < 3 RBCs/HPF
Microscopic hematuria = > 3 RBC/HPF in urine.
Positive Dipstick for blood in urine indicates:

Hematuria
Haemoglobinuria
Myoglobinuria

M/C cause of hematuria is Acute CystitisQ.
M/C cause of glomerular hematuria is IgA NephropathyQ.
Papillary necrosisis is the cause of hematuria in Diabetics, Sickle cell disease, analgesic abuse, African Americans.
M/C cause of milky/Cloudy urine is – PhosphaturiaQ.
M/C cause of painless hematuria after age of 50 yrs is – Bladder CancerQ
Pseudohematuria = Seen in ingestion of rifampicin, beet root, phenolpthaline.
Causes of Renal Papillary Necrosis
Diabetes mellitus
Pyelonephritis
Urinary tract obstruction
Analgesic abuse
Sickle cell hemoglobinopathies
Renal transplant rejection
Cirrhosis of the liver
Dehydration, hypoxia, and jaundice of infants
Miscellaneous: Renal vein thrombosis, cryoglobulinemia, renal candidiasis, contrast media injection, amyloidosis, calyceal arteritis, necrotizing angiitis, rapidly progressive glomerulonephritis, hypotensive shock, acute pancreatitis
---
N.B.: Papillary Necrosis is not found in Renal Cell CarcinomaQ.
Differential Diagnosis of Coloured Urine
Cloudy/milky
Phosphaturia (m/c)
Pyuria
Chyluria
Red
Hematuria
Hemoglobinuria/myoglobinuria
Anthocyanin in beets and blackberries
Chronic lead and mercury poisoning
Phenolphthalein
Phenothiazines
Rifampin
Orange
Dehydration
Phenazopyridine (Pyridium)
SulfasalazinE
Yellow
Normal
Phenacetin
Riboflavin
Bilirubin
Green-blue
Biliverdin
Indicanuria (tryptophan indole metabolites)
Amitriptyline
Indigo carmine
Methylene blue
IV promethazine (Phenergan)
Resorcinol
Triamterene (Dyrenium)
Brown
Urobilinogen
Porphyria
Aloe, fava beans, and rhubarb
Chloroquine and primaquine
Furazolidone (Furoxone)
Metronidazole (Flagyl)
Nitrofurantoin (Furadantin)
Brown-black Alcaptonuria (homogentisic acid)
Hemorrhage
Melanin
Tyrosinosis (hydroxyphenylpyruvic acid)
Cascara, senna (laxatives)
Methocarbamol (Robaxin)
Methyldopa (Aldomet)
Sorbitol
Frequently Asked Questions:
Etiology of hematuria.
Differential diagnosis of hematuria.
What is microscopic hematuria?
Short notes : painless hematuria.
Discuss the causes, investigations and management of a case of hematuria.
A male patient aged 60 years attended surgical OPD with painless hematuria. How will you diagnose and treat the case?
Etiology:
Memoranda:
Essential hematuria = Circular RBC, No Cast, No proteinuria
Exercise induced hematuria:

Occurs in long distance runners (>10kms)
Noted at end of the run.
Disappears with rest.

Origin

Renal – IgA nephropathy.
Bladder – Bladder tumor.
Approach:
In evaluating hematuria, following questions should be asked, and which help the subsequent diagnostic evaluation efficiently:
Is the hematuria gross or microscopic?
At what time during urination does the hematuria occur (beginning or end of stream or during entire stream)?
Is the hematuria associated with pain?
Is the patient passing clots?
If the patient is passing clots, do the clots have a specific shape?
History
General survey
Vitals: Pallor / BP / RR / HR / Temp / Urine output
Abdominal examination:
Renal lump
Palpable bladder
Renal angle tenderness (Infective origin)
Any bruise in the flank after trauma.
DRE

Evaluate prostatic condition.
Investigations
Urinalysis

pH (normal pH = 5.5 – 6.5):

if alkaline indicates infection
sterile pyuria in acidic urineQ

Causes are TB, Stone, Malignancy, Interstitial nephritis, ↑IL-6 and IL-8.

Culture: To detect uro-pathogens.

USG of KUB Region:

Mainly to detect any

Mass
Hydronephrosis
Prostatic volume
Post void residual
Any stone disease

Cystoscopy:

Cystoscopy should be performed as soon as possible, because frequently the source of bleeding can be readily identified.
All patients with hematuria, except young women (<40 years) with acute bacterial hemorrhagic cystitis, should undergo urologic evaluation.
Older women and men who present with hematuria and irritative voiding symptoms may have cystitis secondary to infection arising in a necrotic bladder tumor or, more commonly, flat carcinoma in situ of the bladder.
---

---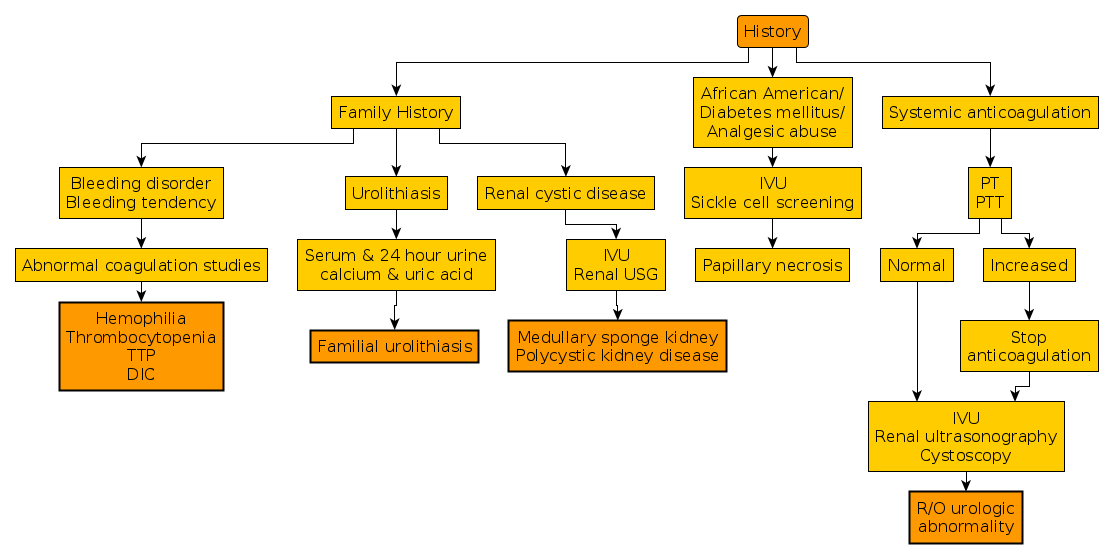 ---