D-1) Persistently raised PSA and single negative prostate biopsy:
what next?
The first step is to assess adequacy of initial biopsy –

which depends on:

No and location of biopsy cores taken, length of each core,quality of tissue sampled.
Size of prostate (chance of finding any cancer is inversely related to prosate size).

what next = repeat biopsy.

but why?

Detection rate on repeat biopsy will be 2 fold higher in an12 core extended biopsy scheme- (AUA 2012).
Upto 30% improved detection rate on RPB (EAU-2013).
D-2) Role of new biochemical marker:
Aim is to reduce unnecessary Repeat biopsy.
D-3) Dilemma if initial bx showed HGPIN (15-20%):
What next ?
Single core

No RPB
Why?

Because unrelated to Pca risk

Multifocal

RPB within 1 yr after initial bx
"Delayed interval" PB every 3 yrs-( GODOY et al).
Why?

Because risk of CA on RPB - 40%
D-4) Dilemma if initial bx showed - ASAP (5%):
What next?
Why?
Because 40% chance of cancer detection on RPB.
D-5) Dilemma in techniques / no of cores / sampling location during initial bx:
Sextant? / 10 cores? / 12 cores? / more?
Current recommendation:
10-12 core extended PB scheme, with additional cores from suspected area on DRE/TRUS is the most accepted method.

(some authors recommend adding a core from extreme apex on each side, because this is the m/c site where CA is missed during initial bx)
What is extended PB scheme?
sextant template + at least 4 & up to 8 laterally directed sampling from PZ.
Usually 12 cores.
Advantage?
Superior detection rate.
Vienna nomogram suggested (8-18) cores, based on pt age & gland volume, in PSA 2-10 ng/ml to ensure 90% certainty.
(for example= prostate size of 50-60 ml in pt <50yrs, 50s, 60s, 70s- 16, 14, 12 or 10 cores were prescribed respectively)
Most initial bx shown = further increase in no of bx core >12 has no significant benefit.
D-6) Repeat PB – what's the optimal technique?
Controversial.
Recommendation is 10-12 cores extended bx, with additional core from suspected area by modern imaging.
Recently Scattoni et al developed some model,
| Pt with previous ASAP | Pt with %fPSA <10% | Pt with %fPSA>10% but no ASAP |
| --- | --- | --- |
| 14 core without TZ sampling | 14 core bx with 4 TZ core | 20 core bx with 4 TZ core |
Algorithm for pt with prior negative biopsy (AUA updates 2012-1)
Assessing the adequacy of initial biopsy.

↓

F/T PSA is currently the most useful for predicting cancer on repeat biopsy.

(Newer marker such as PCA-3 and %(-2) proPSA are promising)

↓

Repeat bx include a minimum of 14 cores

(12 cores recommended for initial biopsy plus 2 additional core from right and left anterior apex)

(The yeild from transition zone is low)

↓

Fail to identify CA

↓

Saturation biopsy (>20 cores) is warranted

After 2 negative saturation biopsy , finding of cancer is extremely low and if found, the significance of the cancer is questionable.
mp-MRI – (Multiparametric-MRI) for Prostate-malignancy
Q) Does mpMRI have a role in ruling-in and ruling-out clinically significant prostate cancer in men at risk prior to biopsy ?
Pt had high PSA & negative TRUS–bx. Later Cancer confirmed on MR-bx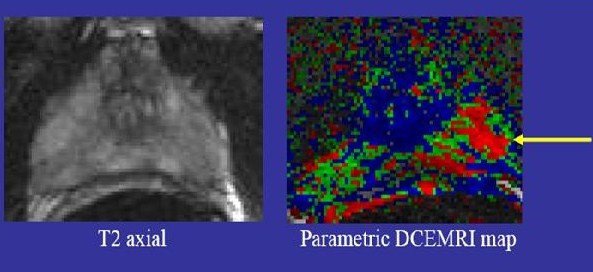 ---
MRI for the Detection, Localisation, and Characterisation of Prostate Cancer:
Recommendations from a European Consensus Meeting–
Diffusion weighted MR (DW-MR) sequence is appropriate in detection of any cancer in PZ
The Gleason grade of lesions in the PZ

exclusion of clinically significant disease as defined by a lesion size ≥0.2 cm3 (approximately 7 mm) in PZ,
exclusion of clinically significant disease as defined by a lesion size ≥0.5ml, in the PZ &
exclusion of clinically significant cancer according to the definition of a lesion ≥0.5 cm3 and/or Gleason ≥4 + 3 in the PZ.
TRUS (Trans Rectal Ultrasonography):
Uses:

Biopsy
Cancer Screening
Prostate Gland Measurement and Calculation PSA Gland Density

Advantages:

Simple out-patient procedure
Reasonably well tolerated
Inexpensive

Disadvantages:

Low sensitivity, low PPV
Large inter-observer variability
Trans-rectal approach is irritable for some
D-7) Diagnostic dilemma in histopathology report following robot assisted laparoscopic prostatectomy:
There are reports in literature about the 'vanishing cancer syndrome' - the phenomenon of not finding any cancer in the radical prostatectomy specimen, despite a positive needle biopsy.

This has important medico legal implications-
Pt may feel that surgery has been performed unnecessarily or worse, still that cancer has been left behind in their body.

Many benign conditions like Benign atrophy, post-atrophic hyperplasia, atypical adenomatous hyperplasia, seminal vesicle-type tissue, Cowper's gland, and inflammatory processes like granulomatous prostatitis, xanthogranulomatous prostatitis and malakoplakia may be misinterpreted as adenocarcinoma in initial bx.

In such cases use of immunohistochemical stains like p63, CAM 5.2, 34βE12 and AMACR may help in diagnosis.
D-8)Diagnostic dilemma in histopathology report following radical prostatectomy: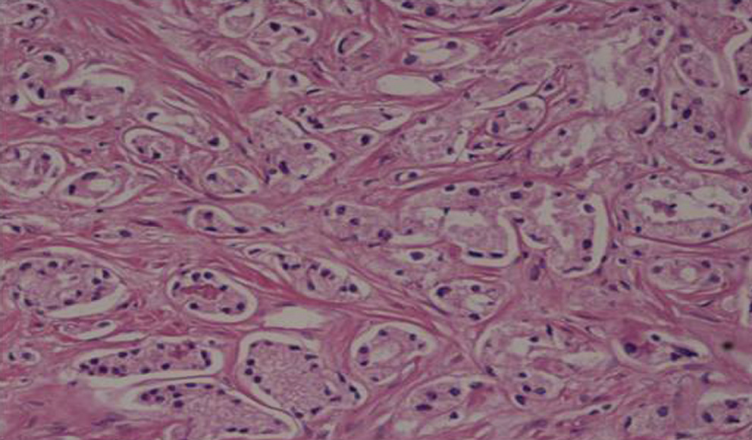 TRUS biopsy showing adenocarcinoma prostate Gleason Score 3 + 3 = 6
---
BUT
---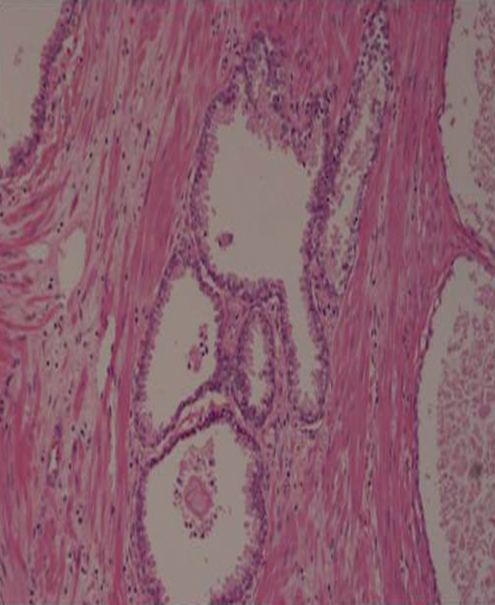 Final histopathology slides of radical prostatectomy
---
specimen of same patient showing no tumor.
---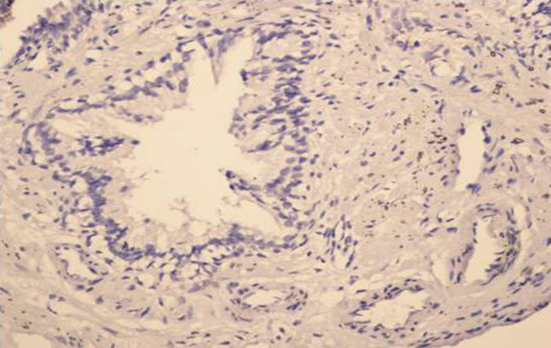 Negative AMACR staining